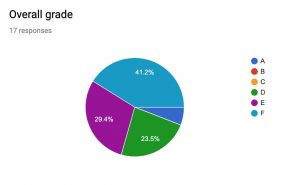 There was not an overwhelming response to this- it would be interesting to see whether Cricket Canada might be brave enough to engage their stakeholders with a similar exercise, but for now, our limited audience has spoken.
We are happy to report on a sample size of just 19, with over 80 people viewing our own detailed report card.
Of these, one respondent gave Cricket Canada straight As in every category, and four gave straight Fs. With the best will in the world, it is hard to take such evaluations seriously, as they reflect inherent bias rather than thoughtful evaluation.
Overall however, here are the grades (updated May 22)
Grade for objective 1 – To grow cricket in Canada; F 52%, E 21%, D 16%, with single responses of A and C
Grade for objective 2 – Raise the profile of cricket; F 58%, D 16%, E 11%, and single responses for A, B and C.
Grade for objective 3 – Good Governance: F 72%, E 11%, single responses for D, C and A.
Grade for objective 4 – Competitive success through LTAD implementation; F 63%, E 15%, D 10%, single responses for C and A
Grade for objective 5 – Resource Planning: F 61%, A 11%, B 11%, single answers for C, D and E
Grade for objective 6 – Winning teams: F 63%, D 15%, E 10%, E and A single responses
Overall grade: F 47%, E 26%, D 21% and one solitary A.
Outside of the person who gave straight As the overwhelming number of responses were in the F to D category. One hopes Cricket Canada (and the voting members at the AGM) take notice, and either convinces their members that they actually are doing a far better job than people think they are, or start performing better.
(Visited 1 times, 1 visits today)